This is a bit far afield, but we thought we'd share some updates on our trip west. On our way to Arizona for Thanksgiving we decided to stop at Bosque del Apache National Wildlife Refuge in New Mexico. We got in to Socorro on Saturday night. It turns out there was a birders' festival going on at the refuge, but we managed to get the last non-smoking room in town.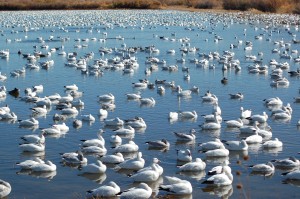 On Sunday morning we went on to the refuge. The first thing we encountered when we got to the driving loop was a wall-to-wall flock of Snow Geese. The birdwatchers were lined up along the shore and the geese stretched from shore to shore, so views were excellent.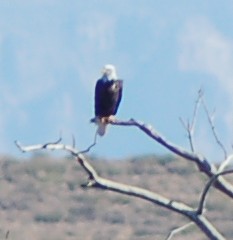 An adult Bald Eagle caught a duck and ate it in a dead tree. Then we drove around to the cultivated fields where views of Sandhill Cranes were best.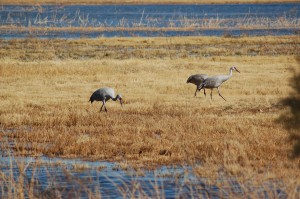 When we got back around to the big flock of geese Forest was awake, so we got him out of the car to look at the geese. He enjoyed seeing the geese until the eagle put them up again and thousands of geese flew right over our heads. That was frightening, so Forest decided that was enough birdwatching for the day!