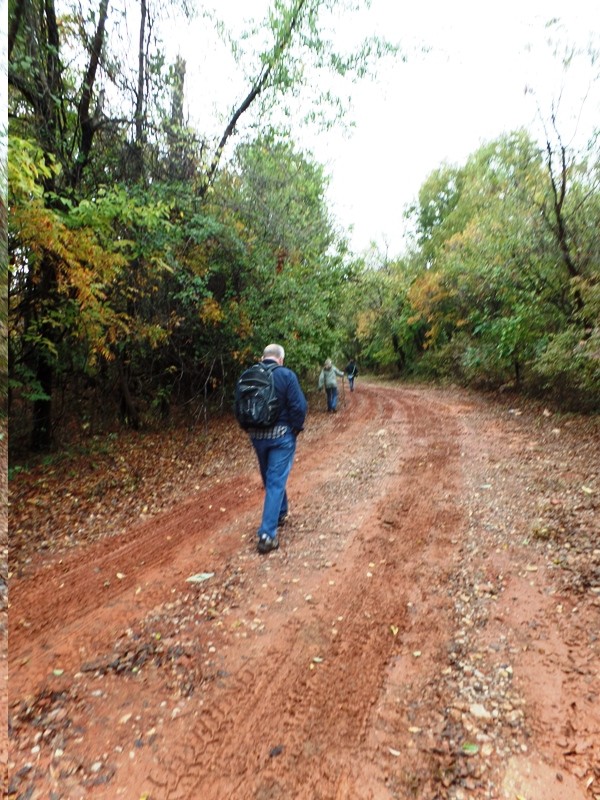 Deep Fork Audubon Society Waterfowl Field Trip
Stinchcomb Wildlife Refuge
Halloween, October 31st 2015…..The first day of duck hunting season in Zone 1!
Becky Emerson Carlberg
Well, well, well. Stinchcomb Wildlife Refuge is considered to be in the northwest corner of Oklahoma City, with Lake Overholser forming its southern border. Two miles of the North Canadian/Oklahoma River flow through Stinchcomb's 1,000 acres. Bottomland hardwood forests (with oaks, sycamores, soapberry trees, etc), vegetation-lined ponds, reed filled marshes having no woody plants, swamps populated by trees, deer, beaver, beautiful white Great Egrets, and other wildlife populate the area. Tulsa Audubon Society in the past has reported Wood Ducks found along the river roads as well as goldfinches, woodpeckers, kinglets, owls, hawks and an abundance of sparrows.
Our small group slogged down one river road. It had rained 2 inches the day before. We saw Red-bellied Woodpeckers, cardinals, robins, doves, Blue Jays, sparrows, one Red-shouldered Hawk, Red-winged Blackbirds, a few crows and heard flickers and…..loud gun shots. Coming from all over.
Dirt-encrusted trucks were parked along and off to the side of most of the muddy river roads. As we walked carefully over rough, soaked terrain further toward water, we thought we saw a real duck. It turned out to be a decoy set up on one river bank furiously flapping its fake wings in the air, going nowhere fast. There were the three other Mallard decoys floating on the water. Sure enough, numbered duck blinds were strewn along the road. As we passed duck blind number 25, I wondered if we should have shown up for the limited duck blind drawing held September 26th. Lucky participants that are selected fork over an OK hunting permit fee and this enables them to sit in their cozy hidden quarters to……initially hunt, in the visual sense, for ducks. It would have been the only way we could have possibly seen any ducks that October 31st.
Stinchcomb is barely tucked into Zone 1, an area stretching through the northwestern quarter of Oklahoma. Who knew? We in the Shawnee area, east of US-177, are in Zone 2. The zone lines are very gerrymandered, but drawn according to the duck migration patterns. Zone 2 duck hunting season starts Nov. 7th. Duck hunting began in Zone 1 on Oct 31st, the day we picked weeks ago to have our little waterfowl field trip, and extends until Nov 29th. There is then a break to allow the ducks and geese a breather before the next execution date that runs from Dec 12th to Jan 24th 2016.
Futile efforts aside, we decided to go to another place less likely to have hunters. A large flock of over 200 Franklin's and Ring-billed Gulls circled over our heads. Why? Apparently gulls love to float on updrafts to save energy. They can also form gull-nadoes when seeking food. Perhaps we looked tasty. A Great Egret quietly flew past as we trudged along the old paved road, more cardinals flew between the trees, a Brown Thrasher made sharp tsuck clicks, but the loud feisty female kingfisher zoomed around, getting our full attention. What a bird. The noisiest animals of all came in the form of three guys we could clearly hear somewhere close to the river. They soon drove out from one horribly muddy red clay side road in their mud-spattered but shiny Chevy SUV with canoe strapped to the top. The young men jumped out, all clad in their camouflage waders, and saw we had….binoculars…. not guns. Wow, comments were made amongst themselves about our binoculars, cameras and spotting scope, but they considered us harmless and warned that the road was almost impassable. They looked around, we assume for something to shoot, but soon left. Two minutes later we saw four ducks, dark silhouettes against the cloudy sky, safely escaping to another area. Our work here was done.


For your information, only non-toxic shot is allowed when hunting in wetlands. The daily bag limit is 6 waterfowl and may include no more than: 5 Mallards of which 2 may be hens, 3 Wood Ducks (colorful perching ducks), 3 Lesser Scaups (abundant diving ducks), 2 Redheads (one of the least common North American ducks), 2 pintails (widely distributed), 2 Canvasbacks (largest diving ducks in North America), 5 mergansers (streamlined fish eaters) and 2 Hooded Mergansers (secretive and strikingly marked smaller mergansers who have lost a large percentage of their nesting habitats.) The Canada Goose season is from Halloween, Oct 31st until Nov. 29th and begins again Dec 12th, but ends on Valentine's Day, Feb. 14th. Hey, nothing says love like giving your lover a dead Canada Goose on that special day.