Deep Fork Audubon Society
About us
Join
Calendar
Bird Blog
Urban bird habitat
Links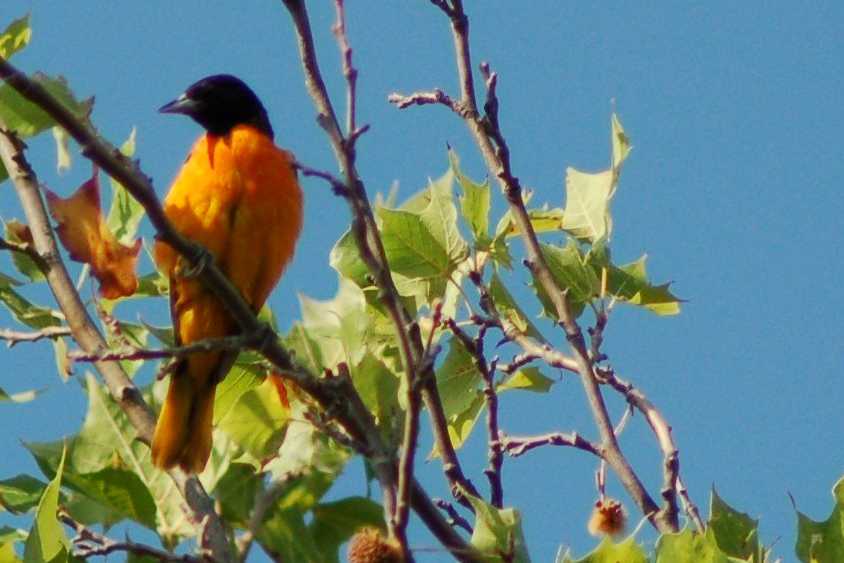 male Baltimore Oriole

On 10 December 2016 we plan to visit the Deep Fork National Wildlife Refuge. We will meet at St. Gregory's University at 7:30 am to carpool.

The Pelican Festival at Grand Lake is 7-8 October 2016. Pelican tours take place from 9am-5pm each day. Call the Grand Lake Association at 918-786-2289 for information.

On 20 August 2016 three of us visited the Stinchcomb Refuge in Yukon. See the Bird Blog for the bird list for the day and a more extensive account of the outing.

We visited 18 Oaks in Tecumseh on 25 June 2016. Read this account of the outing and see this bird list.

We met on 19 May 2016 at 6 PM at the Shawnee Public Library. Here are the meeting minutes.

The Multi-County Master Gardeners met at 9 AM on 18 May 2016 at the Pottawatomie County Extension office. Donald Winslow spoke about May and June birds of Oklahoma.

Hackberry Flat Day was 16 April 2016. We were invited to Hackberry Flat WMA on that day to watch shorebirds and waterfowl.

We watched a woodcock display at Sacred Heart on 20 February 2016. Read Becky's account of the trip.

The Great Backyard Bird Count was held from 13-16 February 2016. See Cornell's site for details.

On 6 February 2016 the Oklahoma Native Plant Society hosted an "indoor outing" on the subject "Monarchs, Pollinators, and Natives". The event was held from 9-3 at the OSU-OKC campus, 900 N. Portland in Oklahoma City. Here are the details and registration.

The Pontotoc Ridge Winter Bird Count was held on 23 January 2016. Read Becky's account of the outing.

The Oklahoma Winter Bird Count took place from 14-17 January 2016. See the Oklahoma Department of Wildlife Conservation's site for details.

On 31 October 2015, we visited the Stinchcomb Refuge near Yukon. See Donald's bird list and Becky's account of the trip.

For more info or to get involved, email Donald at dew@donaldwinslow.info.